Project Spotlight: Tully Master Bath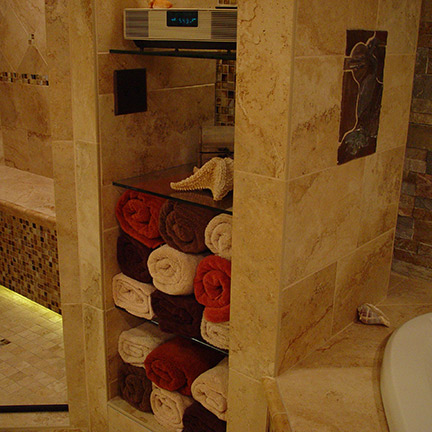 After spending the last few decades updating a tile showroom, Joel and I finally got around to replacing the 8x8 tile installed in our master bath when the house was built. Joel was pretty much willing to go along with anything, except that he had three conditions. He wanted to use really big tile (he is a man after all), he didn't want to see the bottles and such that tend to litter bathrooms, and he didn't want to use a 1x1 mosaic (he lost this one).
As soon as we added Ethnos Yuma to the Euro Collection, I fell in love with the warm tones and rich veining. The largest size that we stock in St. Louis is 20x20, but with a little patience 20x40 can be ordered from Italy and Joel got his really big tile on the floor.
We built an open shelf unit for towels and such between the tub and the shower. Rather than being tight against the outside wall, it is brought forward about 8 inches, creating storage space behind that is divided in the middle. Both sides have glass shelves that are visible only from inside the shower or bath to hold those dreaded bottles, as well as hooks for hanging damp towels.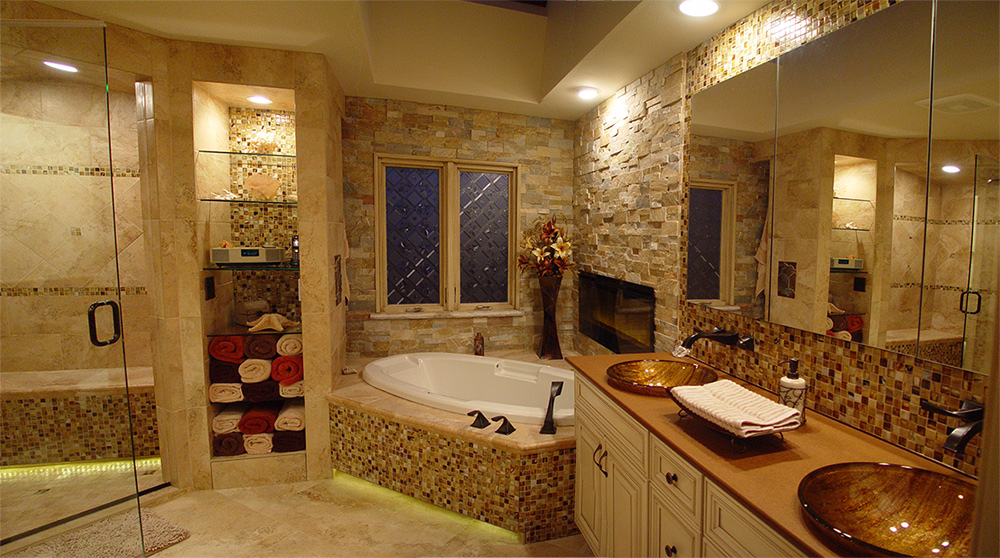 I reused my original bathtub. I know the freestanding models are all the rage, but you can't beat the tub deck for a place to sit and dry or apply lotion. Unlike the deck that was removed, this one is heated. We used a cable floor warming system on both the tub deck and floor, and a mat system on the shower seat.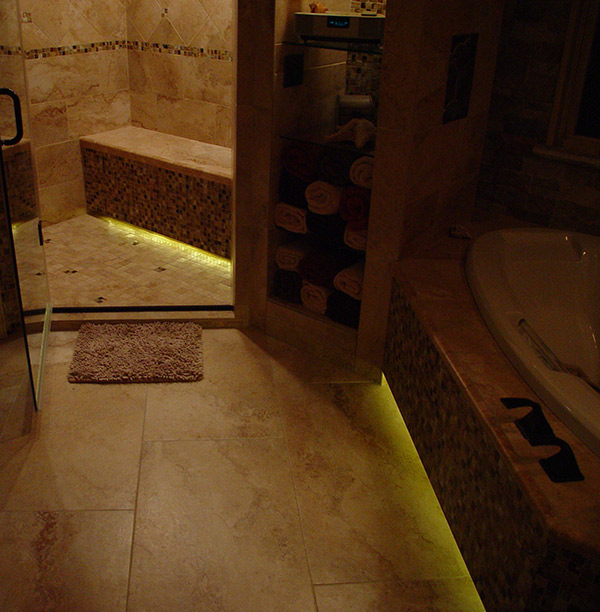 Of course if you have a big tub with a heated deck, you really need to have a fireplace. We went with an electric I-can't-believe-it's-not-a-fire fireplace that can be run with or without heat. We surrounded it with the subtle color blend of AccentStone Sierra. This product from Realstone Systems is a 6x24 natural stone panel for interior or exterior use, with hearth stones and window sills to match.
I wanted to do something with light, so we had the tub deck and shower seat built with a toe kick, and then tucked rope lighting up inside. It's on a dimmer switch so it makes an excellent night light as well as preventing stubbed toes.
The shower doubles as a steam room, and TCNA guidelines call for a 2" per foot slope in the ceiling to prevent annoying dripping. I really didn't want the ceiling to drop 10" on one side, so instead we framed it to peak in the center. Rather than feeling that the ceiling is stunted, it created an illusion of height and interesting angles in the diagonal format of the shower.

Joel didn't get to use his really big tile in the shower because I wanted to incorporate some of the 1x1 glass that was used in other areas to create stripes and dots on the walls, as well as replace some of the 2 inch tiles on the shower floor with a four square of glass. I chose JM0014 from our Signature Glass Blended Ice Collection. If you happen to see Joel, please tell him that the 1x1 glass was the best choice.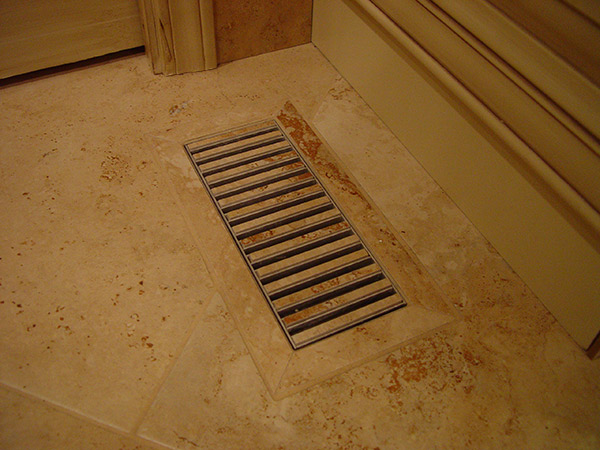 We decided on Schluter's tiled drain in the shower. Essentially four of the 2 inch tiles are not surrounded by a grout joint, and all the water whisks into the crevice. It lifts out easily for cleaning (his job). Of course just like the other tiled areas in our house, we used a tile vent for our heat register. Not only do they blend in visually with the surrounding tile, but their smooth profile doesn't inhibit cleaning or foot traffic. And last but not least, a certain plumbing Goddess talked me into a heated seat for the commode.
We received a lot of help from others too numerous to mention when it came to selecting the right fixtures and cabinets, not to mention the contractors who put everything together. Thanks to them all - they know who they are!
---
---